Today's DivergentFans.com exclusive is thanks to Elma Saxon who lives in the building next to Divergent Movie's  Abnegation village set on Wells Street in downtown Chicago.  Sadly the village was demolished after filming and is no longer available to visit.  See photos of the village set here in case you missed them.

Elma was able to take photos of Ansel and Shailene while they were filming a scene in which they're walking home from (or to) school. (To see more exclusive photos given to us by Elma, CLICK HERE!!)
See all our exclusive posts here. Make sure you follow us on twitter at @Divergent_Fans and LIKE us at Facebook.com/divergentfans! Want to write for DivergentFans.com? Contact us at divergentfans@gmail.com.

First, some photos of Shailene Woodley (Tris Prior) and Ansel Elgort (Caleb Prior) while they were filming a scene. Take a look at the movie still (above) to get a closer look at what their costumes look like.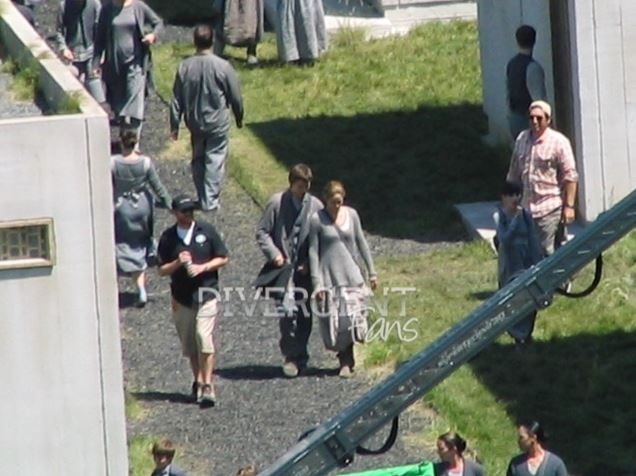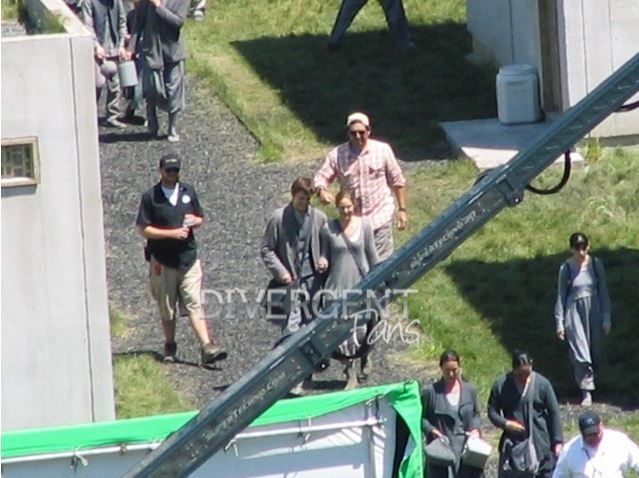 Are they holding hands? (above)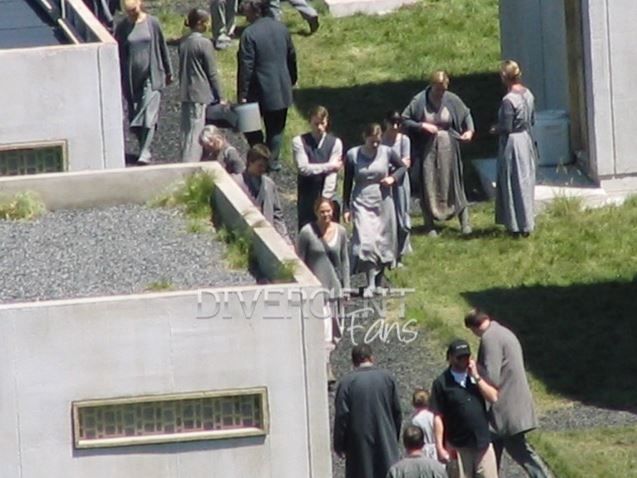 Could those two teenagers just behind Tris and Caleb be Susan and Robert Black- Tris and Caleb's neighbors? (above)
Is Ansel making a duck face in this photo (above)? LOL
We're even lucky enough to have a video of this exact scene being filmed!
Look at the row of houses on the right, count four pathways up from the bottom. (Assuming this really is Ansel and Shailene.) At about 0:08 seconds you can see Ansel go in towards the house with something, then he walks back into the middle, grabs something from who I assume is Shailene, and then sets it up at the door too. Then at 0:20 I believe we can see first Ansel and then Shailene walk out into the middle of the aisle, turn around, and walk up towards the green screen. If you pay attention to the left of them right around 0:29 we get a look at the camera that's following them. 
To see the original post with this video and one more video from filming in the Abnegation village, CLICK HERE. 
Next, a few looks at Shailene and Ansel between filming scenes.
Here they are again standing around with the two extras I believe could be Susan and Robert. (above)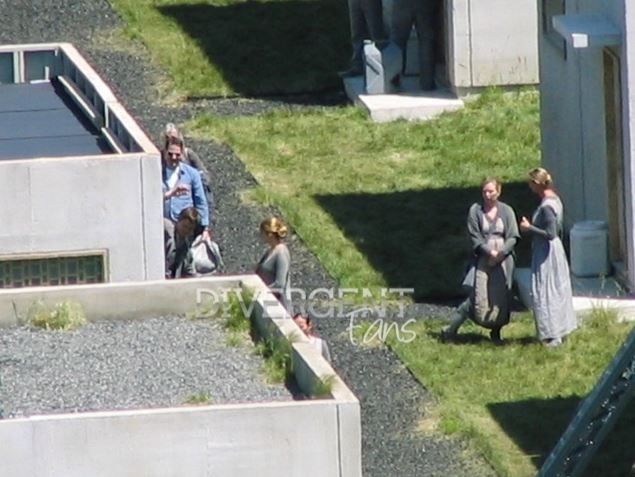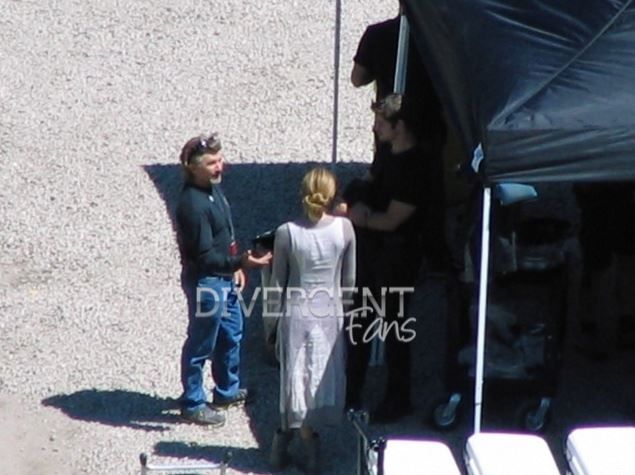 The next photos give us some more insight into the Abnegation faction and the filming that took place at the village. To see other photos from the Abnegation village, click here. 
These two women (above) look like they're carrying wrapped up packages. Could it be food and clothes for the factionless? We think so!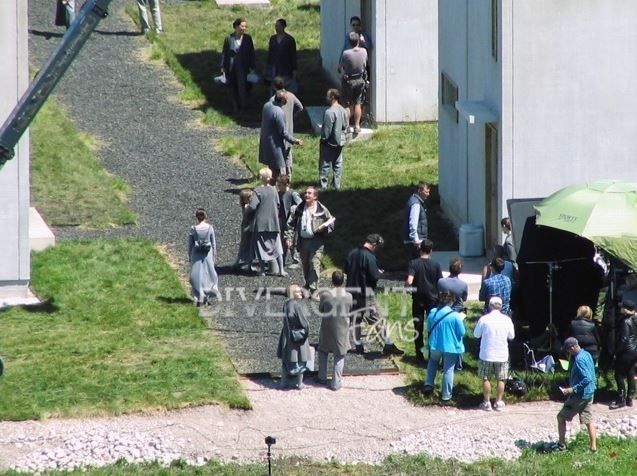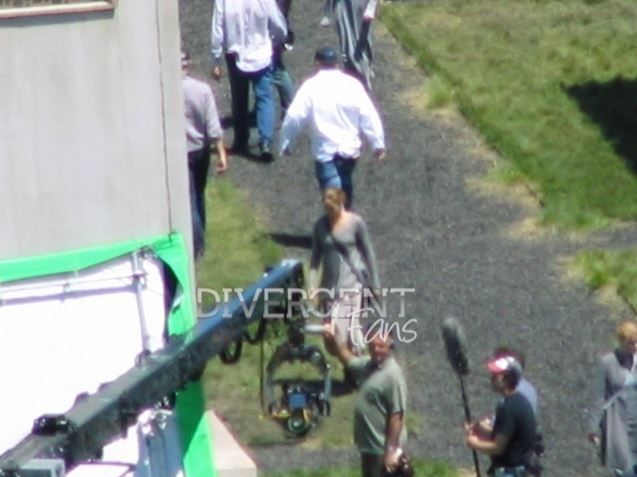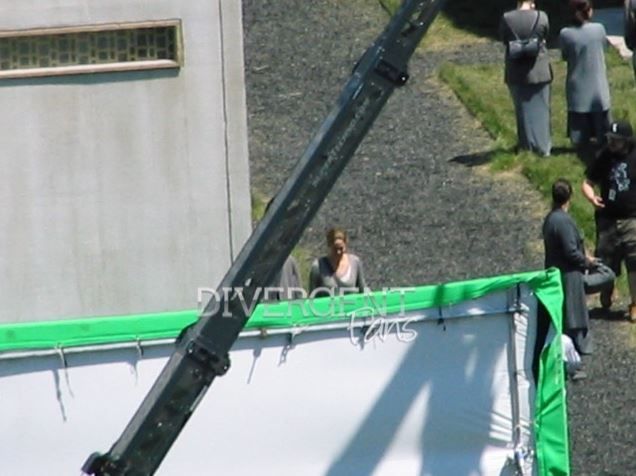 Do these photos get you excited for the movie?! Let us know what you think in the comments section! Do you have any questions or comments for us? Please send them to us at DivergentFans@gmail.com!